CTRL UL101 Ultrasonic Inspection System

Originally designed for the US Military, the CTRL UL101 ultrasonic inspection sysytem is now used in several industries through out the world for predictive maintenance, qualyti control, and leak detection.
The CTRL UL101 receiver converts ultrasound signals produced by industrial machinery and vehicles into easily recognizable audible sounds so the user can evaluate the condition of individual components, even in extremely noisy plant environments. Early warning sings and defects can be detected thus preventing costly repairs, safety-related injuries, and downtime.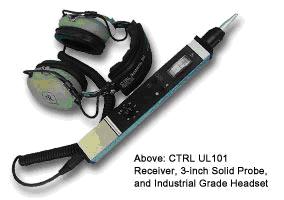 Product features:
Detects ultrasonic signals up to 150 feet.
Useful for scan and contact mode applications including leak detection and bearing analysis.
Handheld, lightweight inspection system.
Durable extruded aluminium construction withstands harsh environment..
No calibration or special maintenance required.
Operated on a single 9V alkaline battery for more than 45 hours of continuous use.
Meets and exceeds ASTM and ASME requirements for leak detection.
Simple controls.
Adjust sensitivity.
Center frequency 40 kHz +/- 1,5.
1 year warranty.
Extended warranty available.
Standard and Instrinsically Safe version.

Specifications:
Dimensions:

UL101 receiver: 222 × 32 × 32 [mm], 8.75 × 1.26 × 1.26 [inch].
UT 2000 transmitter: 105 × 32 × 32 [mm], 4.125 × 1.26 × 1.26 [inch].

Weight:

UL101 receiver: 330 g.
UT 2000 transmitter: 175 g.

Housing: Extruded aluminum Wall thickness 2.3 mm (.09in).
Pover supply: 9V alkaline battery.
Battery life:

UL101 receiver: 45 hours.
UT 2000 transmitter: 300 hours.

Distance of Receiver Reception: Up to 150 feet.
Receiver Dynamic Range: 120 dB.
Receiver Sensitivity: > -65 dB.
Receiver Input Frequency: 40kHz +/-1.
Receiver Output Frequency: 300 Hz - 2000 Hz (to Headset/Analog Meter)
Operating Temperature Range: -20°C (-4°F) to +54°C (+130°F).
Headset: Industrial Grade 600 Ohm Impedence; 21 -24 dB Ext. Noise Attenuation.
The CTRL UL101 meets and exceeds ASTM E1002-05 standards for leak detection. The UL101 headset meets and exceeds ANSI specifications and OSHA standards.

A CTRL UL101 components:
A) UL101 receiver.
B) UT2000 transmitter.
C) Indrustrial grade headset.
D) One inch acoustic probe.
E) Large concentrator.
F) Mini concentrator.
G) Acoustic tip.
H) Set of 5 solid probes/wrap.
I) Acoustic extension probe set..
J) 9V alkaline batteries (2).
K) Carrying case (not shown).
L) Training CD (not shown).
M) Operator's manual (not shown).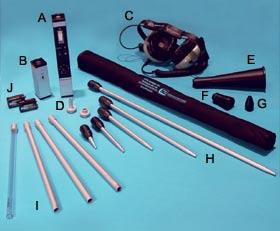 CTRL UL101 accessories:
Receiver Jacket: Protects the UL101 Receiver without restricting use of all controls. Prevents accidental scratching or damage during normal inspection activities.
Belt Pouch: Allows the user to keep hands free and the UL101 available for regularly scheduled or emergency inspection and diagnosis. Can hold the Receiver, Headset, Transmitter, and some attachments.
Gel Ear Seals: Partially filled with silicon gel, seals conform to facial contours to increase comfort and help block competing audible sounds, increasing attenuation from 2 to 3 dB.
Defect Tags: Fluorescent color-coded tags identify components that need repair or require special attention. 2-part tag design with carbon copy for easy processing and job tracking. 100 per pack.
PowerBeam3000: The PowerBeam 300 was originally designed to detect corona discharge on the ceramic transformers of power transfer stations from a safe distance. Because of its accuracy and sensitivity, the PowerBeam 300 is used for numerous applications including the detection of pressurized and vacuum leaks, electrical arcing, and mechanical components that would be unsafe to reach with only the UL101 and its attachments.
SoundCTRL Equipment Condition Analysis System: provides maintenance personnel with the capability to better monitor, evaluate, and diagnose the condition of critical mechanical equipment. Unplanned downtime and lost production can be avoided with this state-of-the-art system. The handheld SoundCTRL System connects directly to the CTRL UL101 receiver (right) for an easy one-step inspection-collection process. SoundCTRL recognizes the ultrasonic signals received by the CTRL UL101 and provides immediate display and analysis of sound characteristics to help determine the condition of the component under test. The system allows the user to record, play back, compare, and analyze audio and visual wave files of these signals. It also provides the user with the ability to maintain a database of this information, and to print files for reporting and trending purposes. (The signals can be recalled and compared with a baseline for benchmarking purposes.) This system, coupled with the CTRL UL101, provides the most accurate and convenient solution available for equipment condition diagnostics and failure prevention.